news & events
Haddonfield Uncorked 2016
Tuesday, 2.16.16 • Events
Haddonfield Uncorked 2016 - February 20th
Join Sweet T's Bakeshop this Saturday for Haddonfield Uncorked 2016!
Enjoy the perfect pairing of wonderful wines and a day of great shopping amid the unique setting of Haddonfield's boutiques and dining spots. You'll find special offers town wide as 'Haddonfield Uncorked' takes place once again throughout Downtown Haddonfield on Saturday, February 20, from 1 – 4 p.m. (Rain/snow date: Sunday, Feb.21)
Musical entertainment will be provided by DJ Frank at two locations.
An Ice Sculpture of our own Haddonfield Bulldog will be carved in Kings Court between 1-2:30pm. HMHS students, come get your photo taken!
A heated trolley will be available for sipping and shopping at the Haddon Avenue locations and throughout the entire town.
Below is a list of store and winery pairings. South Jersey Winery representatives will be offering tastings of their wine and selling wine by the bottle at the shop they are paired with during Haddonfield Uncorked:
Haddon Avenue:
Hooked Fine Yarn & Boutique/Sharrott Winery
Jersey Java & Tea/Auburn Road Vineyard & Winery
Kings Court:
Marie's Sandwich Bar/Summit City Farms & Winery
Sweet T's Bakeshop/DiMatteo Winery
Kings Highway East:
Da Soli/Belleview Winery
Raks Thrift Avenue/Chestnut Run Farm
The Picket Fence & Garden Tea Room/Natali Vineyards
Zaffron/Hawk Haven Vineyard & Winery
Tanner Street:
Hugh's Clock Shop/Coda Rossa Winery
For Info Visit http://www.downtownhaddonfield.com/events-entries/haddonfield-uncorked/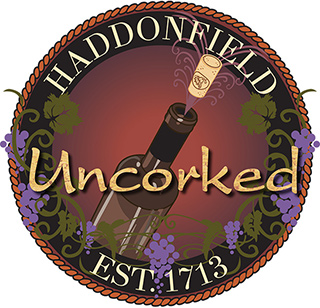 Share on:
Facebook
•
Twitter